Educators
   Mary Lou Diekmann
I started art training at the age of 7 under renowned New York painter Elinore Schnurr. After attending the University of Rhode Island on a music scholarship, I became co-owner of award winning Scituate Potters where I also worked as designer, potter and instructor for 10 years.
Besides pottery I've spent 40+ years as a landscape and portrait painter. In the 1980's I designed and developed a line of sculptural jewelry that I sold in galleries around the country.
I'm pleased to say that my work has been displayed and sold in numerous juried shows, winning a fair share of critical acclaim and praise. maryloudiekmann.com
Landen Gailey
After completing a BA in Art (emphasis in ceramics) at Agnes Scott College I was Art Director for a community Art Studio in an inner city neighborhood then worked on a City of Atlanta program to design & create playgrounds in economically depressed neighborhoods.  I first discovered Enameling while employed in the City of Atlanta arts programs, and was immediately smitten.  For more than a decade I worked as a production enamellist, selling through craft shops & festivals and exhibiting occasionally. With both parents in the field of education, and with a strong background in Behavior Sciences, how could I stay away from teaching? Relocating to North Carolina in 2002 gave me the opportunity to re-focus my attention on jewelry making.  I learned Metal Clay techniques from my mother, an accomplished metalsmith, and completed PMC certification in October 2006.  I am now in my fifth year working with PMC and am fascinated with the expansive possibilities of the medium! I exhibit at local shows, including BRCC exhibit featuring Women in the Arts in Spring 2007.  My work is sold  by private commissions and on display in several galleries. I am a member of PMC Guild, and keep current with emerging trends and techniques by participating in educational workshops put on by other Metal Clay craftspeople & metalsmiths and by attending PMC Guild & Art Clay Conferences. I love sharing the excitement of Metal Clay with others!   Helping students embark on a journey of creativity and self discovery is my goal.
 Tyson Graham
Tyson Graham is best known for his colorful Redware pottery depicting the seasonal variations of life and nature in the Foothills. Working primarily with red earthenware and slip decoration, he creates functional pots adorned with flowers, birds, leaves, trees, and musical instruments. He holds a Bachelor of Fine Arts from the University of South Carolina and  apprenticed under Claude Graves of Little Mountain Pottery. Outside of the studio, he enjoys playing Old Time music and backpacking the trails of Appalachia. Graham is currently based at Little Mountain Pottery in Polk County, NC.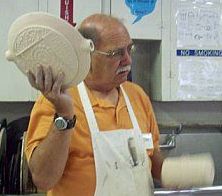 Gary Huntoon
Gary's work has several styles and forms, ranging from whimsical "critters on wheels," to totems, to the very elegant black "gosu" forms.  He works primarily in porcelain, although his elaborate sculptural pieces are made out of stoneware clay, and he has taught classes and workshops throughout the country.   His objective for his work is "to have a timeless quality, unique and strong, not only now but 100 years from now.  My work is not limited to just throwing on the wheel or hand-building.  I do not want to limit myself to one type of firing, one clay, one technique of decorating or one glaze.  Each creative idea demands its own method of construction and finish.  Each new material, technique or tool suggests something different to try."  Recent awards and artistic recognition include First Place, 2nd Annual Juried Exhibition, Clemson Art Center; a piece (small totem) accepted in the 41st Juried Art Exhibition, Anderson Art Center; and 4 pieces accepted in the 15th Annual South Carolina Palmetto Hands Fine Craft Exhibition, North Charleston Cultural Arts Center.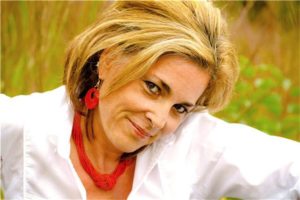 Petra Manning-Brooks
Owner, Instructor and Stained glass artist.  Over the years I have played with and studied many art mediums such as sewing, collages, clay ( of all kinds ) , resin, beading. You name it – I have applied my creative energy to it! In 2006 – I was introduced to Stained Glass and fell in love with how the light plays thru the glass. Creating paintings of Stained Glass. My introduction, training and influence stem from Samuel Hodge and his wife who's work can be viewed on http://museum.msu.edu/museum/msc/aug05/html.  In addition to creating "commission pieces" private clients, charities, churches, and various corporation, in 2008 I began teaching Beginner and Advanced Stained Glass at the Spartanburg Art School for the Chapman Cultural Center. Enjoy my work! Get inspired! Take a class and create your own masterpieces!!!!!
Danielle Miller-Gilliam
Danielle Miller-Gilliam earned a BFA in Jewelry and Metals from Tyler School of Art in Philadelphia, PA.  She then apprenticed with a master goldsmith for two years and has maintained her own studio and  business, Danielle Miller Jewelry, for over 20 years.  Her jewelry designs are exhibited at leading juried shows and sold at fine craft galleries throughout the country and have been featured in many books and  periodicals.  Danielle was awarded with the American Jewelry Design Council's 2010 New Talent Honorable Mention and is a nine-time NICHE Awards finalist. www.daniellemillerjewelry.com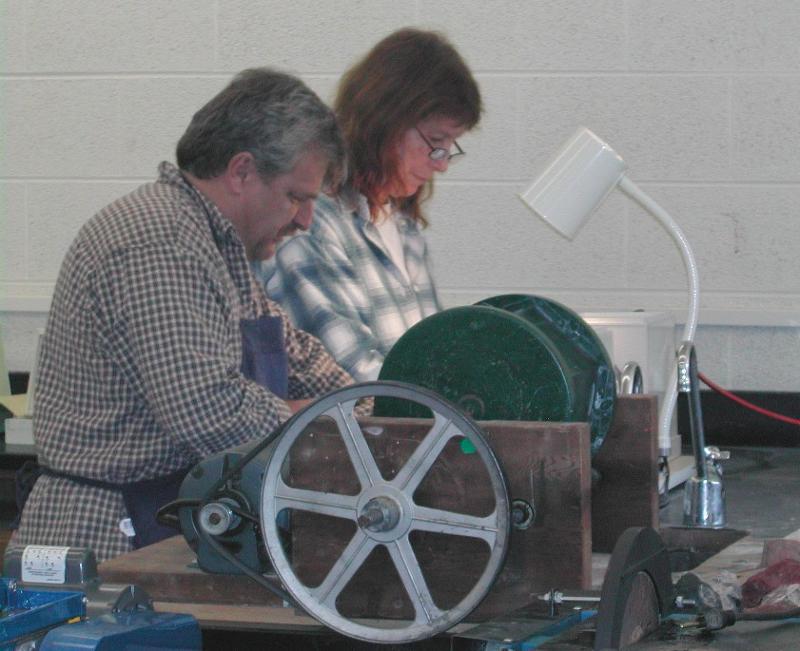 Robert Orr
Robert first became interested in Lapidary as an eight year old boy.  He began to collect stones from an old mica mine where he and his family lived in South Carolina.  Robert had found many stones in that open pit mine and still has some of them today.  Throughout the years, he learned the trade much by trial and error.  Robert became a student of Tryon Arts and Crafts School where he picked up much of his skill from Wiley Gainus, the lapidary instructor who developed the lapidary program at TACS.  Robert enjoys tumbling stones, making cabochons, and faceting stones from the materials that are available.  He enjoys teaching the techniques as well as gem identification.  The classes are filled with a lot of hands on instruction with semi precious stones that are available through the class.  Students may also bring their own stones.
Ron Ponce
Ron has maintained his own professional studio since 1974, producing unique pottery work. He specializes in copper red glazes which require a special firing technique resulting in a beautiful oxblood red color, as well as "lotus blossom peaks" on his vases.  He has been a member of the Southern Highlands Crafts Guild since 1975, an exhibiting artist with Hampton III Gallery in Greenville, done several group and one-man shows including the Piccolo Spoleto Festival in Charleston SC and the Southeastern Center of the Arts in Winston Salem, NC.
Ron loves teaching and has been an instructor at the Greenville County Museum of art for over 10 years, and an instructor with Tryon Arts and Crafts School since November, recently being promoted to be head of their pottery studio. He reveals that his teaching philosophy is "to love the process of creating, and the products will come," and "to openly share all of my knowledge with my students to inspire them to be the best they can be and to succeed."  And indeed, many of his students have done just that.
Ron recently had a piece accepted  in the 41st Juried Art Exhibition, Anderson Art Center and participated in the Spring Jubilee Art Festival in Pendleton, SC.

 Katie Poterala
Katie Poterala currently resides in Greenville, SC. She received an MFA from Arizona State University in Metalsmithing. In addition to producing production and one of a kind studio work, she teaches classes at  the University and community levels. She is an active member and volunteer at national conferences, and has held positions in both Arizona Designer Craftsmen and the Society of North American  Goldsmiths. Katie shows work internationally. Some of her most recent venues include Velvet Da Vinci Gallery, J Cotter Gallery, Mesa Arts Center, and the Phoenix Sky Harbor Airport Museum. She has been the  recipient of numerous awards and is represented by galleries and shops throughout the country. Her work was recently published in two Lark books: Showcase: 500 Rings and Showcase: 500 Art Necklaces. Katie's  professional work can be viewed online at www.katiepoterala.com.
Daniel Wilcox
Daniel Wilcox is a jewelry artist who primarily uses wire and crystals to construct his creations. He is a self-taught artisan who began his wire wrap journey in 2009. All of his wire wraps are created by twisting single pieces of wire together, never soldering or melting them, in an intricate weave to harness crystals. His designs are primarily inspired by the shape, color and beauty of the minerals he chooses to work with. Although his work has branched out into many other mediums and styles, wire working is his main passion. Daniel is based out of Landrum, South Carolina and looks to the mountains and nature that surrounds him for inspiration to grow in his art work.