Welcome to Tryon Arts and Crafts School

373 Harmon Field Rd
Tryon
828-859-8323
Monday thru Friday 10am-4pm;
 Saturday 10am-1pm
Tryon Arts and Crafts School teaches hands-on classes and workshops in pottery, jewelry, weaving and fiber arts, blacksmithing, glass, lapidary, woodworking, and more. To promote the extraordinary artisans and craftspersons in the Appalachian foothills, we host special exhibitions in the Exhibition Gallery, maintain a permanent Heritage Collection, and sponsor festivals on our park-like grounds at Harmon Field on the banks of the North Pacolet River in Tryon, North Carolina. Tryon Arts and Crafts School was established in 1960 as a key part of the grassroots movement that led to the development of Tryon as an artists' colony. Our 501(c)(3) nonprofit organization is supported by membership dues and donations. Members enjoy access to open studios and discounted classes. We invite you to join our friendly, stimulating, and enriching community by taking classes and workshops, browsing our galleries, spending time in our studios, shopping in our gift shop, and getting to know more about arts and crafts in the Tryon region.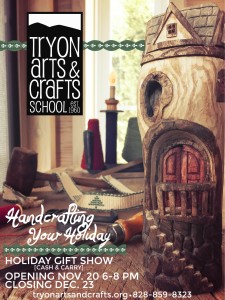 Tryon Arts & Crafts School Presents Annual Holiday Gift Show 
Get a head start on your holiday shopping by visiting the Tryon Arts and Crafts School's Holiday Gift Show, with opening reception on Friday, November 20, from 6 – 8pm.  The reception will feature special holiday-themed hot drinks (both spiked and virgin), hors d'oeuvres and sweets, with surprise guests, and the gift show will run through December 23 to accommodate last-minute shoppers.
Over forty artists and craftspeople will be exhibiting their work, including Charlotte Caughman, Sonia Arnold, Leigh Nodine, Wendy Deudne, Gary Webber, Ron Ponce, Christine Mariotti, Gerry Drew, June Rhoads, Jim Cullen, Estell Osten and Shelly Sparka. There will be pottery, stained glass, fused glass, wooden bowls and items, felt, woven and knitted items, silk scarves, leatherwork, jewelry, cards, soap, knives, and much more.   Most items are priced under $100, and the items may be purchased and taken home immediately for gift giving.  Participating artists will then replace the items with new artwork, making for an ever-changing exhibit to visit and enjoy.  Exhibit hours will be 9am to 4pm Monday through Saturday, with special late-evening hours on the night of Tryon's Christmas Stroll.
While visiting the Holiday Gift Show, be sure to stop in and see the other unique craft items in the gift shop, featuring the hand-crafted work of regional artists, from silk scarves and jewelry to forged hooks and stained glass windows.  The gift shop and gallery holiday hours are 9am to 4pm Monday through Saturday.